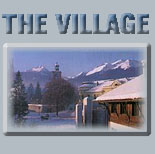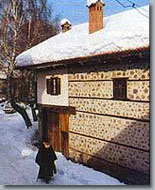 A part of Bansko

ACCOMODATION
Accommodation is at small private hotels in Bansko. We have made our best to make combination of low price and good quality.
Bansko is a small town, situated in the foothills of the great Pirin Mountains. The town attracts it's visitors not only as a sports center, but also with more than 120 cultural monuments and museum houses. The old scenic part of the city is an open historical museum of Bulgarian architecture. In the Middle Ages, Bansko was an important cultural center, and the renowned "Bansko icon painting school" is still considered one of the best.
There are a lot of old style pubs and restaurants in Bansko, some in houses built in 19th century. They offer a great opportunities for unforgettable evenings with national Bulgarian folklore, food and wine.
Here is the place to mention that food and drinks in Bulgaria are very cheep, compared to European standards. What's more, we don't have any age limitations for consuming alcohol drinks.