GUIDES
Our guides and are chosen for their ability to provide you with an exciting and memorable ski vacation, while caring for your safety and comfort at all times. They are members of the Bulgarian Extreme and Freestyle Ski Association (BEFSA). All of them are expert skiers with great experience and strong communication skills. They possess thorough knowledge of the local mountains and weather conditions. Our guides will be glad to help you find untouched snow and reveal you the great beauty of Pirin Mountains.
In addition to being qualified ski guides, they are also instructors, able to devote their knowledge and expertise to making your skiing a learning experience.
Since we want to make your vacation really a magical ski experience our maximum guest-to-guide ratio is 4:1. In this way you won't have to compete with others to find untouched powder and your guide will be able to pay personal attention to everybody. Anyway, if your group is larger than 4 members you can ski together.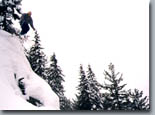 ABOUT US
Bulgarian X-Ski Guides is a joint project of the guides from the Bulgarian Extreme and Freestyle Ski Association and WoodProtect Co. Its aim is to reveal to the world the beauty of Bulgaria's nature and especially of its highest mountains. Our aim is to provide an opportunity for those, who desire to explore new places, ski untouched powder and maybe find some other place in the world, they can call "HEAVEN".