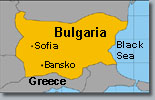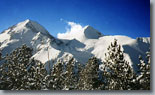 Vihren and Kutelo1 peaks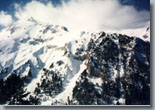 The 1000m Eastern face of Vihren is awaiting...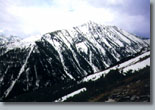 The marvelous Western Face of Todorka peak.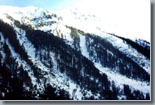 When you look at your tracks some 700m above...
MORE ABOUT THE PLACE
Bulgaria is a small country, situated on the Balkan Peninsula (Europe) with very diverse terrain conditions. Almost a third of the territory of Bulgaria is occupied by mountains and forests. The climate is moderate with average temperatures varying from +25°C in the summer to -15°C in the winter.
Pirin mountains are situated in the South-Western part of Bulgaria. They are almost 3000m (9000ft) high (Vihren peak - 2917m). The mountains are covered by old coniferous forests and above 2400m the alpine zone begins. The Northern parts of Pirin Mountains (where Bansko is situated) are declared a National park under the protection of UNESCO (included in the WORLD NATURAL HERITAGE list, area - 40 000 ha) because of the unique ecosystems met here. Untouched centuries-old forests of Pinus heldreichii and Pinus excelsior mixed with steep marble slopes, where edelweiss and other endemic herbs are found. On the territory of the park there are 170 natural lakes and nearly 2000 species of higher plants. Under the slopes of Todorka peak is the oldest coniferous tree in Bulgaria - "Baikushevata mura" (over 1300 years old). To preserve the most precious ecosystems the Bulgarian governments have declared several reserves, the largest of which is "Dzindziritca-Bajuvi Dupki" (declared in 1934, area - 2900 ha, altitude - 1300-2884m, 16 local and 42 regional endemites, 46 plants in Bulgaria's Red book).
The winter climate of Pirin is strongly influenced by the cold Western Atlantic masses and the moisture-carrying Mediterranean masses. When the latest reach the cold slopes of Pirin Mountains, heavy snowfalls begin. The combination of these snowfalls and the steep forest slopes make exactly the perfect skiing conditions in the Bansko region. Usually the winter temperatures vary from -15°C to -5°C.
"Todorka" ski lift is built on the long Northern slope of Todorka peak. After getting off the lift, with short traverses and hikes our guides can take you to supreme untouched terrain. Thus you will be able to ski a lot of routes each day, discovering the secrets and beauty of our backcountry. Steep forests (sometimes more than 45°) with shining powder, vast open slopes, narrow couloirs and the tiny Bunderitca hut lie in your feet when you reach the upper lift station... And when you stop at the bottom of valley, turn back, take a look of your track some 700m above, you will understand why we consider this place the best for skiing in Bulgaria. In moments like this, listening to the overwhelming silence of mountain I've whispered to my self "Looking for a little bit of heaven, heaven, heii..."