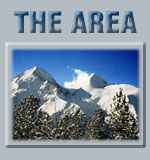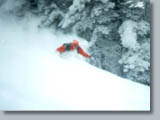 The centuries old forests offer highest quality of snow...
THE SKIING AREA
Bansko ski region is famous among the Bulgarian skiers as the place with best ski conditions in Bulgaria. As moist Mediterranean air masses reach the high Pirin mountains they cool and this gives the beginning of heavy snowfalls. Usually a storm leaves at least 30-40 cm of fresh powder, but almost every year there are "exceptions" with more than a meter.
Many of the ski routes are in old forests with a lot of treeless spaces. We have selected those runs because they offer highest quality of snow and greater safety. Another reason is that often you can ski steeper pitches in the forests than in the open. When the snow stability is good we have more options, and tend to select steeper slopes on the West face of Todorka peak or elsewhere in the backcountry.
Your guide will always make best efforts to select a skiing route that suits your ability and comfort level, and offers just the right amount of challenge.
Skiing is done at elevations from 2700 -1800m. (8400-5400 feet)
BEST TIME TO COME
Best time to rip the powder in Bansko region is February and March. During these months there may be some warmer periods, but the centuries old coniferous forests manage to keep the snow good.
But when we say "best time" we don't mean "the only possible". Skiing in Bansko ski region is done from late December till early April. And in these months there are many perfect days. When spring comes to Pirin Mountains (early May) and snow becomes firm, the time comes for skiing the extreme ski routes...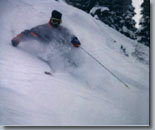 Enjoying the runs...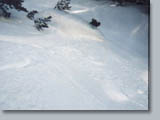 No doubt, snowboarding is nice...

SKIING ABILITY
You don't have to be an "Extreme" skier to explore Bansko region with us. You must be minimum a strong intermediate skier or snowboarder, feeling comfortable in a variety of snow conditions to enjoy fully the runs.
Snowboarders, telemarkers, and monoskiers should have in mind that sometimes we have to make short traverses and hikes to reach our destinations. Snowboarders may find useful to carry collapsible poles in their backpack.

REQUIREMENTS
1. You must be at least 18 years, and you should sign release of liability.
2. At minimum intermediate skiing abilities.
3. Equipment: 457 kHz avalanche beacon; backpack; at least 1 shovel and collapsible probe for 4 skiers.
Recommended equipment (if you desire to ski more challenging runs): helmet and harness.
4. You should carry insurance for life and health care risks that covers you while in Bulgaria. We also recommend that your personal belongings are insured against loss.
5. A group of minimum 2 persons.