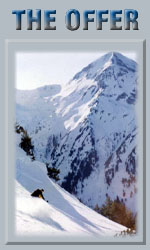 We offer guided skiing in the best parts of the famous Bansko forests (Pirin Mountains) and on the open West slopes of Todorka peak.
During the day skiers explore spectacular terrain accessed by ski lift, with occasional short hikes to reach their route. In the evening we return in the village of Bansko (elevation 900m.), famous with it's architecture, folklore, and taverns.
Our aim is to provide our guests with the best possible ski experience in Bulgaria under safe and enjoyable conditions. Our guides have great experience and knowledge of the local weather anda snow conditions and thus can select the best runs for the moment.
The price includes transfer from Sofia to Bansko and backwards, 6 nights at Bansko, ski lift tickets, guide service.